Professional Pest Control & Wildlife Management
You are here:
Wasp nest removal Bury St Edmunds
Wasp nest removal Bury St Edmunds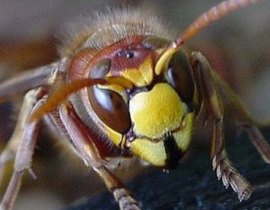 Wasp nest removal in Bury St Edmunds is a safe and effective pest control treatment we supply every summer to many households throughtout the town and surrounding area.
Wasps nests begin in April although they are seldomly noticed until the summer months when the nest will number many thousands of worker wasps.
To eradictae and remove the wasps our techicians will typically use a potent insecticide contact dust which is fired into the nest or its access points. Our treatments are safe to use around the home and garden and will have the wasps nest under control in a matter of hours.
We are based just outside Bury St Edmunds and provide wasp nest removal to both homes and businesses.
Being a smaller local pest control business we are able to provide a professional and friendly service at honest rates.
If you would like to speak to someone who knows what they are doing call us on 01284 799398, we can usually get your wasp problem sorted for you the same day.