Professional Pest Control & Wildlife Management
You are here:
Mouse control Bury St Edmunds
Mouse control Bury St Edmunds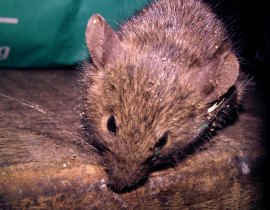 Mice are a common problem in Bury St Edmunds, the first signs of a mouse infestation will often be noises in the loft or droppings under kitchen sinks.
Mice breed at an alarming rate, if left a small infestation in a loft cavity can quickly spread throughout the home and into neighbouring properties.
The risks of leaving a mouse infestation include illnesses ( eg. Salmonella), damage to food and packaging and worst of all... house fires. Mice like all rodents need to continually gnaw to keep their teeth from over growing. It is gnawing on wires in lofts which can cause significiant damage and lead to a 999 call.
Our treatments for mice problems in Bury St Edmunds are usually very quick and efficient, we normally expect a mouse problem to under control within a few days of our initial visit.
If you need help with a possible mouse infestation in Bury St Edmunds feel free to call us on 01284 799398 for help and advice, or to make an appointment.